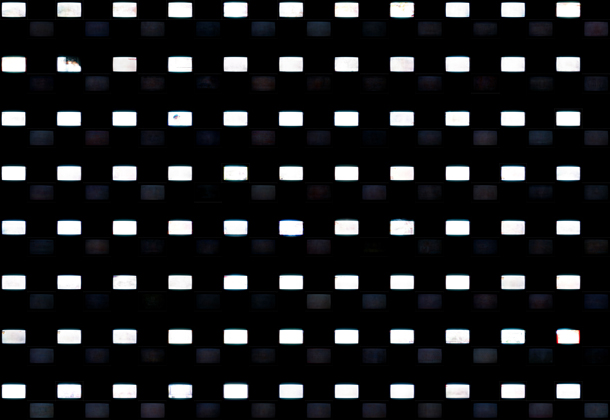 ■PASSIVE RECORD[broadcast,Posi/Nega]
□PLACE
東京都千代田区猿楽町2−2−1 #202
□期間
2015/8/4(火)-15(土)
開場時間:火-土曜日13:00~19:00 (日・月曜日休み)
□STATEMENT
写真は選択の芸術といわれている。
ピントや露出、シャッターを切るタイミング、シャッタースピード、
出力する際のセレクトなど撮影者の意思が働く。
私はこれらの選択を自分以外の他に委ねてみたいと思った。
意思と無意思、意識と無意識。
写真で作品を作る者につきまとうテーマのひとつだ。
私はそれらを全く取り除いて作品を作ることは難しいと思った。
ただし何らかのルールを作り、
その中で淡々と行為を繰り返す事によって機械的にデータを生成することは可能だと思った。
機械的にデータを生成する行為の中でも、不正確なものが請け負う部分がある。
そこで発生するバグを受け入れる事で意思や意識、予想から距離をとることができるだろう。
——————————————————————
■PASSIVE RECORD[broadcast,Posi/Nega]
□PLACE
2−2−1 #202, Sarugaku-cho, Chiyoda-ku, Tokyo
□PERIOD
2015/08/04 (Tues.)~15 (Sat.)
Open from 13:00 to 19:00 through Tuesday to Saturday (Closed on Sunday and Monday)
□STATEMENT
It is said photography is all about selecting.
In focusing, exposing, releasing shutter, adjusting shutter speed, selecting which data to output…
Whenever photographers make decisions, their intentions come into play.
And I wanted something else to make these decisions, instead of me.
With or without intentions, with or without consciousness…
These common concepts keep hovering around people engaged in photography.
I thought it difficult to exclude these concepts completely in producing works.
However, I thought it possible to produce data mechanically, by following a set of rules and repeating same actions like a robot.
Even when producing data mechanically, inaccuracies consist in some parts.
By accepting bugs accompanying these inaccuracies, I believe, photographers can distance themselves from intentions, consciousness, and predictions.
——————————————————————
TanakaSoushi.net:
http://tanakasoushi.net/works/passiverecord_pn.php
ALTERNATIVIE SPACE The White:
http://www.the-white-jp.com/exhibition/20150804_tanaka.html
FACE BOOK:
https://www.facebook.com/events/1009760199069303/